October 2020
Welcome to Garry's new website!
Designed to be clean and simple, the new site showcase's Garry's books and short fiction.
April 2020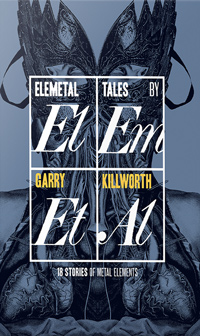 Well, it's been a while! Hopefully you have found plenty to do since the last update. Garry certainly did as he was a judge for the World Fantasy Awards and so had to read all the shortlisted entries. Not a task for the casual reader! Somehow he still found time to write and the result is a gorgeous new collection, called 'Elemetal Tales'.
These stories were born out of a discussion on themed collections with the Canadian writer Claude Lalumiere. They are diverse in every way except that each one of them has a metal element at its heart. 'The Maskmaker' was the first to be written, a story set in an early Venice and has gold as its theme. Silver comes next, but there follows tales of robots made of lead, cyborgs who are addicted to drinking mercury, aliens obsessed with shiny chromium, a nickel coin worth a fortune and many others. The tales end with a false element, Erifium, the metal from which the sword that St Michael wields against demons in the battle of Armageddon is fashioned.
Intrigued? You should be! 18 stories, all unique to this collection. The book is available in signed and unsigned jacketed hardcover editions here.
* * *
Right now Garry is writing a novella called 'Blood Moon', which is a werewolf tale with a twist: it's about a wolf that turns into a man every full moon.
* * *
And finally, a heads up for those of you who have embraced the e-reader revolution. It's well worth a browse on the Amazon store. Many of Garry's older works have become available through the Gateway imprint, and there's a good chance you'll find a few gems you didn't get to own in the old dead tree format. All very reasonably priced too.