June 2021
There's really no time like the present to check out Audible. If you are already a member you'll know the perks. If you have yet to sample the delights of audiobooks there's a free 30-day trial. Either way, fans of Garry's sf, fantasy and horror will be chuffed to know there have been several new additions to the Audible store, including the first Welkin Weasel trilogy, read by Matthew Leiper, Angel and Archangel, read by Christian Francis, and Elemetal Tales, also read by Christian Francis. The publisher responsible for this aural bonanza, Encyclopocalypse Publications, is committed to bringing more of Garry's back catalogue to the Audible store, including the second Weasel trilogy, so be sure to keep checking back.

April 2021
Lockdown, social distancing, social bubbles, furlough . . . all phrases we didn't fully appreciate a little over a year ago but are now part of our everyday lexicon. Strange days indeed. During lockdown Garry wrote a brace of strange, genre-straddling tales and now, care of Infinity Plus, we can boot up our ereaders or crack open a hardcopy if that's your thing and enjoy some much needed escapism.
The lead story in 'Blood Moon' is a novella:
Scar, a lone grey wolf wandering the North Canadian plains, harbours a strange and burdensome secret which caused him to be banished from his pack. Now he must hide his grotesque affliction for as long as possible in the hope that he will find a new pack. He knows that as soon as it's discovered he will either be torn to pieces or ostracised again, yet his one hope of redemption is that this life-long burden might actually become a weapon to use against the ultimate enemy of all wolves.
Also included in the book are eight short stories of science fiction, fantasy and horror, seven of which have never before been published. Click here for all the details regarding formats and retailers.
* * *
Do you like audiobooks? But of course you do, who doesn't! So you'll be chuffed, delighted and pleased as punch to know that some of Garry's back catalogue will soon be entering your lugs care of a company called Encyclopocalpse. First up are 'Thunder Oak' and 'Castle Storm', beautifully read by Matthew Leiper. Full details nearer the time of release. As ever, we recommend you follow Garry on facebook for the latest news.
October 2020
Welcome to Garry's new website!
Designed to be clean and simple, the new site showcases Garry's books and short fiction.
April 2020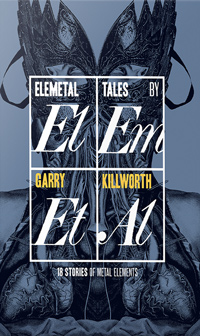 Well, it's been a while! Hopefully you have found plenty to do since the last update. Garry certainly did as he was a judge for the World Fantasy Awards and so had to read all the shortlisted entries. Not a task for the casual reader! Somehow he still found time to write and the result is a gorgeous new collection, called 'Elemetal Tales'.
These stories were born out of a discussion on themed collections with the Canadian writer Claude Lalumiere. They are diverse in every way except that each one of them has a metal element at its heart. 'The Maskmaker' was the first to be written, a story set in an early Venice and has gold as its theme. Silver comes next, but there follows tales of robots made of lead, cyborgs who are addicted to drinking mercury, aliens obsessed with shiny chromium, a nickel coin worth a fortune and many others. The tales end with a false element, Erifium, the metal from which the sword that St Michael wields against demons in the battle of Armageddon is fashioned.
Intrigued? You should be! 18 stories, all unique to this collection. The book is available in signed and unsigned jacketed hardcover editions here.
* * *
Right now Garry is writing a novella called 'Blood Moon', which is a werewolf tale with a twist: it's about a wolf that turns into a man every full moon.
* * *
And finally, a heads up for those of you who have embraced the e-reader revolution. It's well worth a browse on the Amazon store. Many of Garry's older works have become available through the Gateway imprint, and there's a good chance you'll find a few gems you didn't get to own in the old dead tree format. All very reasonably priced too.