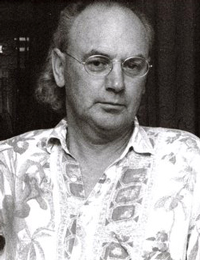 Garry Kilworth was born during the bombing of York in 1941. His father being regular RAF he was an itinerant service brat until he himself joined at the age of 15. Childhood years were spent on remote RAF stations, the most exciting of which was Aden, now South Yemen. There at the age of 14 Garry became lost with a friend in the Hadhramaut Desert. There also began a love of the exotic, which has been an integral part of his fiction. Apart from running around sandy wastelands brown-skinned, chasing scorpions and camel spiders, he started to read. There was no television in those years and he read voraciously, his favourite authors being Rudyard Kipling, Richmal Crompton and Robert Louis Stevenson. 'Classic Comics' gave him an appetite for the writers of yesteryear, especially those with a speculative flavour.
His 18 RAF years as a telegraphist and cryptographer took him to many countries, including back to Aden (two tours), the Maldives, Singapore, Cyprus, Malta and Kenya. To date he has lived and worked in 9 countries and visited 72. During his year on the small coral island of Gan in the Maldives he used his time to read as many of the classics and genre novels as he could find in the station library. This 19-year-old poorly-schooled youth also took education classes and exams by correspondence courses. Here also, he wrote stories and verse, having been determined since the age of 12 that he was going to be another Rudyard Kipling. It was an ambition that was adjusted and modified many times over later years. At 20 Garry married Annette Bailey, the 18-year-old daughter of an RAF Flight Lieutenant pilot of a Catalina aircraft.
After leaving the service and working 8 years for a telecommunications company, mostly on the Caribbean Islands, Garry became a professional writer. He took two university degrees to bolster his confidence and brought out 4 novels with Faber and Faber. Once he moved to Gollancz he published his first collection of short stories and found the form he loves best and which he feels suits his natural writing skills. In 1988 Annette was posted to Hong Kong to work in Child Guidance. Garry accompanied her as 'wife of Captain Kilworth' and wrote his best-selling novel Hunter's Moon. Some 90 novels and collections of stories followed in various genres including science fiction, historical fiction, young adult, fantasy, horror and literary novels such as The Bodley Head's Witchwater Country (longlisted for the Booker prize) and In The Hollow of the Deep- Sea Wave. He also co-authored the prize-winning novella The Ragthorn with his great friend Robert Holdstock, who sadly died in 2009 cutting off the flow of that author's superb fiction.
Garry and Annette have backpacked to and from many countries during their marriage, eschewing big hotels for the experience of staying in hostels and with local families. In 1993 and again 1996 they circled the world, stopping at countries they had not managed to reach from Hong Kong. The couple continued to travel abroad when they could, with Annette doing annual stints as an English teacher in Bihar, one of the poorest of the Indian states. In 1994 they both became Quakers, having at last found a spiritual haven. At the age of 67 Garry announced that he wanted to do one last 'young man's' adventure. His Australian biker friend, Pete Worth, persuaded him to go on a 4000 km. motorbike ride in the Outback – two weeks on a machine for which he had no driving licence, no experience and limited ability – into the forever of Australia's hinterland. One day, Garry maintains, his at present infant great-grandchildren will speak of that legendary ride with awe in their voices, while shrugging when reminded of the many novels and short stories written by their Poppa.