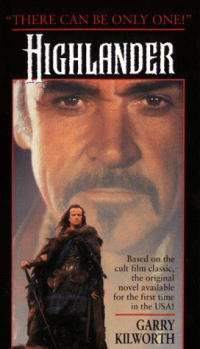 "There Can Be Only One"
The battle rages across the centuries, from the wind-scoured Sahara to the wild Russian steppes to the rocky crags of Scotland. And only one Immortal can survive.
MacLeod is the Highlander. A Scottish clan warrior from the 16th century, he was taught the deadly arts by an ancient mentor, who then suffered the only wound that can end an Immortal's life: decapitation.
Now, seven lifetimes later, MacLeod faces the final test. The Kurgan, his ancient adversary, has tracked him all the way to the streets of New York City.
The fight will be the same: blade to blade. Only the outcome is in doubt. Will the Highlander win? Or will the Kurgan's scimitar stop him with a blow that will plunge the earth itself into an era of darkness and chaos?
Based on the cult film classic, the original novel.
Available from: