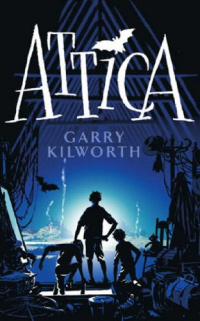 A novel with echoes of timeless classics such as The Lion, The Witch And The Wardrobe, The Borrowers and Alice In Wonderland, Garry Kilworth's Attica reveals a twilight world of forgotten wonders, and extraordinary adventures - all happening just above our heads.
Join Jordy, Alex and Chloe as they cross the portal from our world to a strange and wonderful other place, accessible for just a moment in time through the trap-door of the attic in their family home. From hat-stand forests, to towering hills of old musical instruments, deserts of old books and a great water-tank lake, the vast continent they stumble upon is one of limitless surprises - and that's before they meet the inhabitants: strange clans of small and lumpen people who live in homes constructed from all manner of found things and drive vehicles powered by old sewing-machine parts.
It is against this remarkable backdrop that the three children will embark on a spellbinding adventure to recover a prized possession, save a life, and - somehow - find a way back home.
Available from: